Business cards are cards containing information about a company or an individual. They are shared during introductions as a convenience and a memory aid...and should leave a lasting impression.
A good business card should communicate the overall image of your business. What you should expect it to do is present a professional image people will remember. The color, wording and texture of your business card have a lot to do with its appeal and its ability to convey your company's image.
Business cards say a lot about a group or person. This is why it is wise to invest in the best possible business cards. Designing such marketing tools takes time. It is important to think about the impression a person wants to make and one's personal taste when selecting the paper, font, ink color, and overall design for business card printing. The following are some things to keep in mind before starting your design process.


Choose the Paper

The paper that the card is printed on is important. Business card paper needs to be durable and memorable. The type of paper should be firm. Card stock and high quality options are important. Additionally, one needs to think about the size, shape, and color of the card. People could go for a traditional rectangle shape or could be creative and invest in business card that folds out or folds over.


Decide on the Font
The font and message on a business card is very important. What information is conveyed on business card, determines that a person knows about the card holder and also explains how to reach the individual. Everything from one's website to email and phone number can be included on the front of a card. Sometimes, people even have the back printed with company logos or messages. The type of font used for the message as well as its color and placement affect the tone and overall impact of this marketing tool.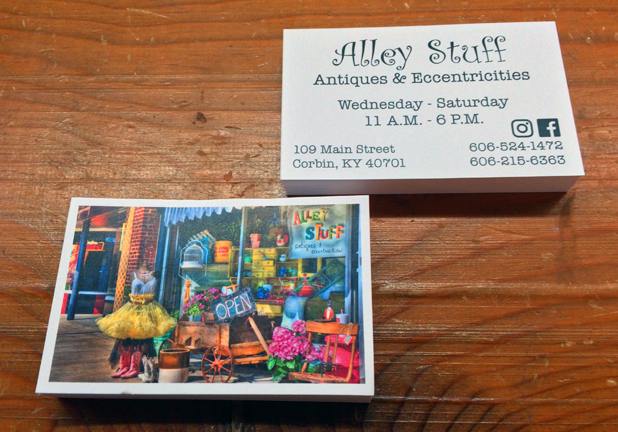 Logos, Images and Text

It is important to always think about the balance between images and text. Does one's company have a logo or image that represents it? Does a person want to include a symbol to represent their career or industry? A business card isn't super large in size. Thus, it is important to think about the placement of the image in relation to the text. Business cards should be easy to read and memorable.
Scroll on this business card to see the backside!


Think about the Audience

Professionals need to think about what they are trying to say with a business card and whom they want to target. The card needs to represent the needs of the individual as well as the industry they work in.

It is wise to experiment when designing business cards. This ensures that a person can see how different options look, in order to choose the right one. These cards are valuable when conducting business or networking at social events or conferences. Having a memorable and professional card speaks volumes and could help create important connections.
Other uses for business cards include membership, gift, instruction, punch, discount, or appointment cards...the options are limitless.

Tell your story in FULL COLOR!